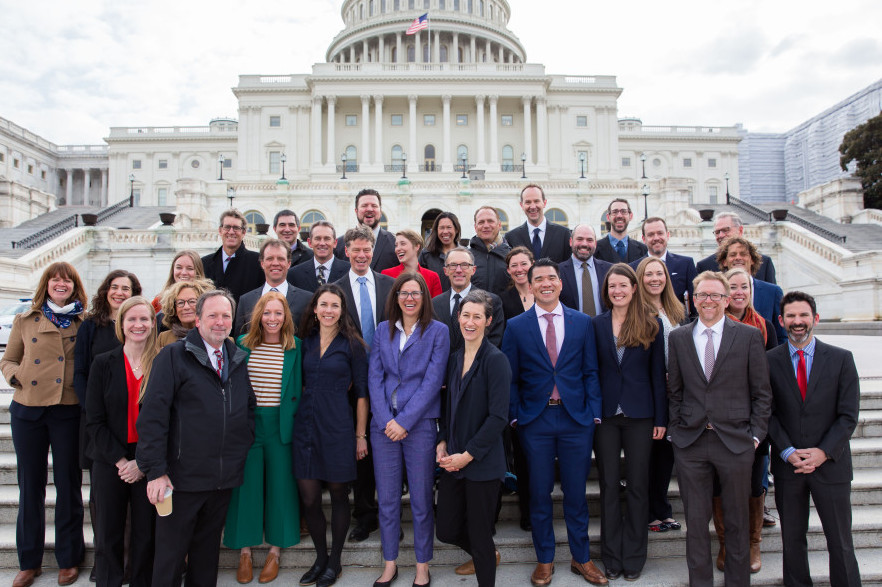 Peak Design is a design company crafting products that keep gear organized, protected, and accessible. The brand has been enthusiastic members of The Conservation Alliance since 2016. Peak's purpose is to create happy, meaningful lives for the people that work there and one such employee is Annie Nyborg, Director of Sustainability.  For the last two years we've been lucky to have Annie join our annual spring D.C. trip. She wrote an awesome recap of her experience for Peak's Field Notes so we shared it below. Enjoy! 
---
Last week I donned my pantsuit (a once-a-year occurrence at most) and joined fellow member brands for the Conservation Alliance's annual Washington D.C. fly-in. The purpose: use our collective voice to lobby politicians on issues important to us; namely, the protection of our public lands.
Prior to joining these Alliance trips, I had an idea of what it meant to lobby on the Hill but didn't understand what it looked like in practice. The Alliance organizes our trips into two parts: one day of training and one day of actual, bonafide lobbying.
This year, the training day consisted of presentations by a range of experts—current congressional staffers, researchers, federal department staff, and advocacy leaders. We learned about conservation priorities, the current political landscape, past case studies, and how to effectively lobby our positions.
On our second day, we split into smaller teams based on geography to meet with members of Congress representing our districts and states. Being from a San Francisco-based company, I joined other western state brands to meet with representatives, senators and/or congressional staff from California, New Mexico and Arizona. The goal of these meetings was to inform our representatives of issues we care about and request their support at the federal level. We spoke on behalf of the 230 Conservation Alliance companies to highlight bills we want written and passed, show gratitude for past conservation leadership in Congress, offer our industry support and resources, and educate on our current conservation priorities.

This year was special in that in addition to our usual 'asks', we started most meetings with some proverbial bear hugs and high fives on both sides of the aisle for the passing of a historic lands package (the
 Natural Resources Management Act, S.47
), which protects 2.5 million acres of land and 676 river miles, and permanently reauthorizes the 
Land and Water Conservation Fund
.
If you're thinking, "wait, I'm confused…I thought current Republican reps aren't huge fans of protecting public land…how did something like this pass?", you're probably not alone. This 
article
 gives a concise answer, but in a nutshell, it was a balanced collection of bills—some appealing to Republicans, some to Democrats—with no bill so contentious that it would sink the entire ship. Everyone, no matter side of aisle, got something that they've been wanting.
We at Peak Design are still learning how best to utilize our company voice and resources in supporting the issues we care about. This trip reaffirmed my belief in the power of 
showing up, 
in the literal sense, to fight for what you believe in. A few other handy takeaways to conclude:
Make a friend. Physically showing up—whether on the Hill, at your local and state offices, or in marches and town halls—really does something. Building face-to-face relationships with your policymakers absolutely influences how they vote and what policy they put into action. Making friends in person is more effective than over the phone or in writing.
Talk to friends. I've under-appreciated the importance of building awareness and education. Our politicians need our help in educating the masses on important issues and we do that by chatting with friends & family, posting on our social channels, writing blog posts, sharing photos, producing films, and really just talking to and showing as many people as possible what we care about. Even though we often exist within our relative echo chambers, there are folks in those chambers who still don't understand certain issues as well as they should. It's your job to change that.
Write something to new friends. Surprisingly, our reps keep a very close eye on locally-published opinion pieces. The power and importance of local op-eds (i.e. not the New York Times) was noted on multiple occasions by the reps we spoke with. Who knew? Not me. Get on your soapbox and write a piece. Call out your rep so that they feel pressure to support your values.
The Arctic needs a friend. Speaking of issues that need a spotlight, the Arctic National Wildlife Refuge is in deep trouble and is something we all need to be rallying behind. Understandably, it may be hard to rally behind a place you've never seen with your own eyes but it's a place that needs that vision and imagination. It's the same vision and imagination that was used to protect Yellowstone and Yosemite before most had ever set eyes on those spectacular landscapes. People from around the globe now travel to the US to experience those magical places in person. The 2017 Tax Bill's mandate to open the refuge to oil and gas was nothing short of reprehensible and should be reversed. Representative Huffman has introduced legislation to do just that and it should be supported.
Footnotes: Words (and most photos) by Annie Nyborg, Director of Sustainability for Peak Design.