This event marked a significant step forward in our mission to protect outdoor spaces and wild places through the collective power of our member companies. Here, we'd like to recap our journey, express our gratitude, and emphasize the importance of businesses participating in fly-ins.
Advocating for Land Conservation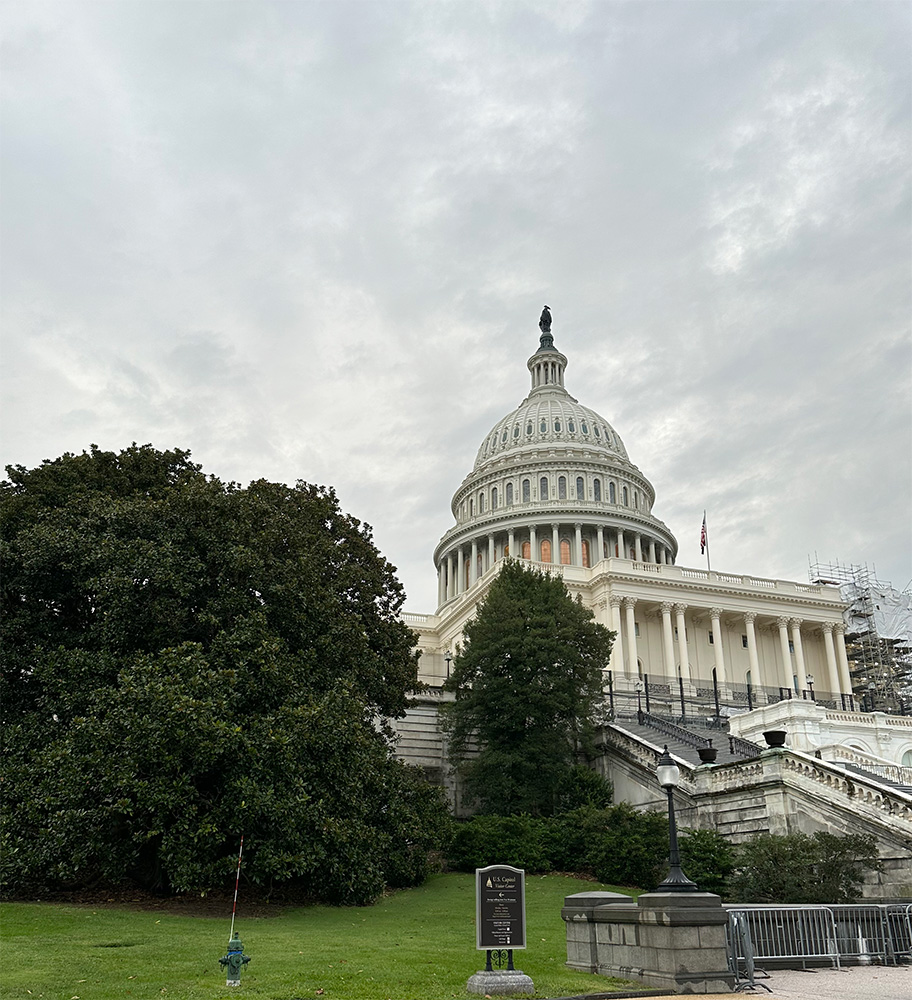 Our annual D.C. Fly-In is an excellent opportunity to engage with policymakers and congressional offices. This year, we had over 30 meetings with members of Congress, their staff, as well as representatives from the Biden Administration where we voiced our unwavering support for land conservation efforts across the country.
One of our primary objectives was to elevate the importance of protecting D-1 Lands in Alaska, which are of paramount importance for the state's outdoor recreation and tourism economies, preserving biodiversity, and promoting wilderness preservation. We focused on the D-1 Lands predominantly in meetings with Biden Administration officials and made it clear to them that our community is planning on engaging with the Bureau of Land Management (BLM) over the coming months in order to express our support for restored protections for this pivotal landscape. Additionally, we pushed for the creation or expansion of several national monuments in Colorado and California, recognizing the significance of these areas for both local economies and our environment. We brought a strong and unified business voice to D.C. in support of protections for these landscapes through legislation and national monument designations using the President's authority under the Antiquities Act. Lawmakers and Biden Administration officials listened to our input and were grateful for our engagement in the process of protecting these landscapes to help meet our nation's conservation and climate goals.
Supporting America's Outdoor Recreation Act
In alignment with our community's values, we expressed our support for legislative priorities such as the America's Outdoor Recreation Act (AORA) and strong conservation and recreation provisions in the 2023 Farm Bill. In general, lawmakers were excited to hear that our community is learning more about the Farm Bill and that we are working to better represent the voice of the outdoor industry and gateway communities in that must-pass legislation. When it comes to AORA, we reiterated our support for the historic package of recreation bills and let congressional allies know that we are exercising our advocacy muscle to encourage continued progress on this bipartisan legislation. Both AORA and the Farm Bill are crucial in promoting sustainable outdoor recreation, robust outdoor economies, and ensuring the long-term health of our natural landscapes. Furthermore, we advocated for a comprehensive public lands package to address the diverse needs of our public lands across the nation, and to ensure they remain accessible to all. Although a public lands package has not taken shape yet in the 118th Congress, we let our elected officials know that this is a high-level priority for TCA, our members, and our partner organizations.
Championing the BLM Public Lands Rule
During our congressional and administration meetings, we highlighted the importance of the draft BLM Public Lands Rule and its implications for our industry and the businesses that rely on the protection and accessibility of public lands. This rule, if implemented, will serve as a cornerstone for responsible land management, and will highlight the validity of conservation and recreation as priority uses of public lands. The BLM Public Lands Rule will benefit not only our industry, but also the environment and communities that depend on it. We urged lawmakers to allow the rulemaking process to move forward and asked that they push back against legislative actions meant to derail the process.
Perhaps one of the most exciting moments of the Fly-In was seeing a paid advertisement placed by The Conservation Alliance, Outdoor Alliance, and Outdoor Industry Association in hard-copy and electronic versions of Politico. The ad encouraged Congress and the administration to pass the BLM Public Lands Rule to ensure the health and well-being of our $862 billion outdoor recreation economy. We proudly shared the ad in person with leaders across the Hill and in the White House.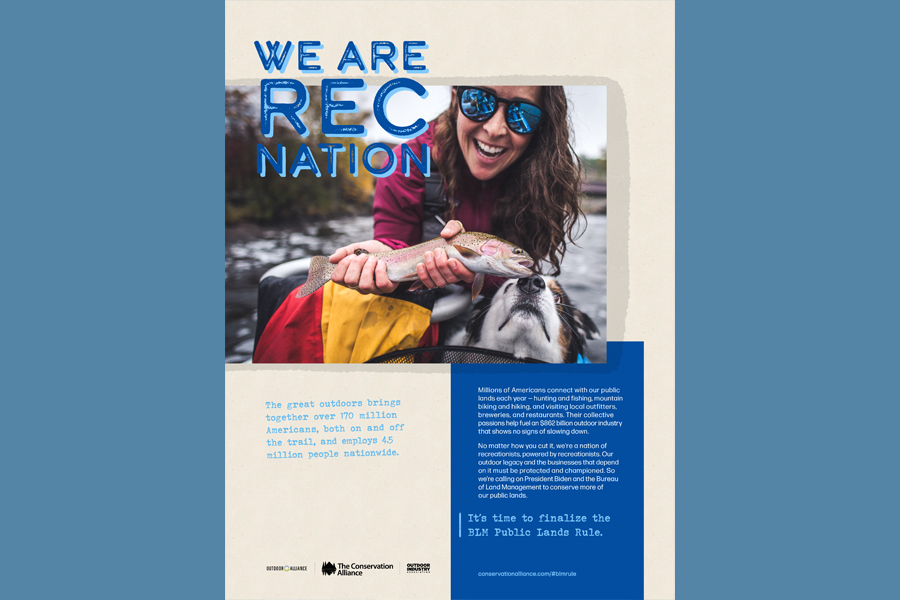 Expressing Our Gratitude
We want to extend our heartfelt gratitude to all the businesses and organizations that joined us at the D.C. Fly-In this year. Your commitment to conservation and the outdoor recreation economy is truly inspiring. Together, we made a powerful statement about the importance of protecting our public lands and growing our industry to increase the strength of sustainable outdoor recreation-based economies across the country.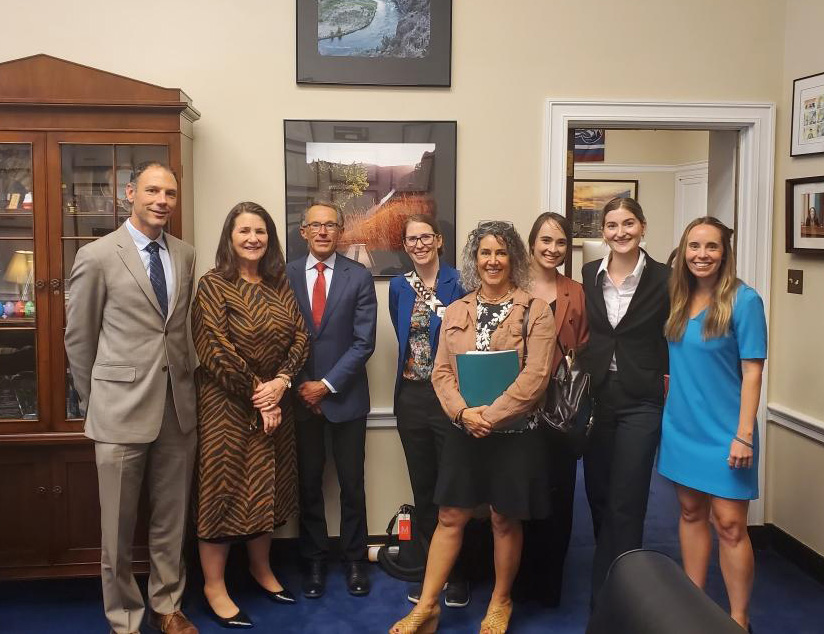 We are also thankful for the time and attention of the members of Congress, their staff, and the representatives from the Biden Administration who took the time to meet with us. Their willingness to engage in meaningful discussions is vital in shaping the future of land conservation and outdoor access in our nation.
All in all, we met with several congress members, including Senators Bennet (D-CO), Merkley (D-OR), Tester (D-MT), and Wyden (D-OR). On the House side, we met with Representatives Curtis (R-UT 3rd district), Representative DeGette (D-CO 1st district), and Representative Bonamici (D-OR 1st district). Our agenda was also stacked with important meetings with the Biden Administration, including: U.S. Department of Agriculture's Deputy Under Secretary Meryl Harrell; the Council on Environmental Quality; the U.S. Department of the Interior; the Bureau of Land Management; and, John Podesta, Senior Adviser to the President for Clean Energy Innovation and Implementation.
Why Businesses Should Join Fly-Ins
We hope that through joining the Fly-In, and for those who watched from afar, the benefit of this event is clear. It is pivotal that TCA shows up – with constituent voices and business members in tow – to exercise our collective strength; to have direct engagement with key stakeholders and policymakers; to ensure that our voice is heard on pivotal policy issues that impact the outdoors and our membership; and to help our members build new relationships with key lawmakers in D.C. and other TCA members.
The D.C. Fly-In was a resounding success, thanks to our members' support and dedication to being outspoken business advocates for our nation's wild places and outdoor spaces. The progress we made on our various policy priorities will pay off over the coming months and years. We look forward to continuing our collaborative efforts and making a lasting impact on the policies that will have outsized impacts on the future of our lands, waters, and communities across the U.S.
What's Next?
As many of you know, it takes time and focused determination to move the needle on the things we care about the most. However, our collective advocacy and our work during the Fly-In have laid some great groundwork for the next steps to continue building momentum. Here are some ways you can stay engaged!
Sign up to join the Mobilizing for Monuments coalition.
Check out TCA's Action Center to explore opportunities on our priority campaigns.
Share your takeaways from the fly-in with the rest of your team.
Work with TCA staff to arrange a company-wide Lunch and Learn to help your colleagues learn about our work and the power of advocacy.
Participate in TCA Member Directed Grant Cycles and our Confluence Grant Program.
Join a small, policy-specific fly-in over the coming months.
Keep your eyes peeled for a save-the-date for next year's TCA D.C. Fly-In.
Reach out to Shoren and the rest of the Public Affairs team to opt into specific campaigns or to learn about more bespoke opportunities to directly engage on TCA's major advocacy efforts.
Thanks again to all attendees for being a part of this transformative trip!